ABOUT HASKELL COUNTY HOSPITAL FOUNDATION
The Haskell County Hospital Foundation is a 501(c)(3) non-profit dedicated to serving the residents of Haskell County through health education, youth scholarships, and fundraising to benefit the Haskell County Hospital District. In 2022, the Foundation awarded a total of $2000 in scholarships to five high school graduates of Haskell County who are pursuing degrees in the medical profession. 
The Foundation Board members are visionaries, committed to the future of healthcare in our region. One of the long-term visions of the Foundation is to support the hospital district in projects and initiatives that will allow Haskell Memorial Hospital to continue providing high-quality, compassionate care for generations to come. When you support the Foundation through your generous donations, you are partnering with us to continue the legacy of excellence in healthcare in our region dating back to 1939.
BUNCO & Silent Auction Event 2023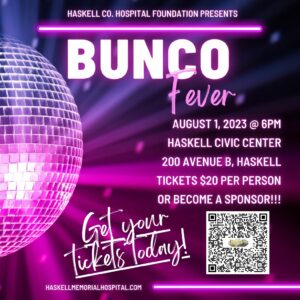 The Haskell County Hospital Foundation will host its third annual Bunco and Silent Auction event on  Tuesday, August 1, 2023. The event will be held at the Haskell Civic Center from 6-8:30 p.m. Online ticket sales will open until 6:30 p.m. the day of the event. 
Event sponsorships are available at a wide range of prices. If you are interested in becoming a sponsor for the evening, you can learn more here.
There will also be a silent auction at the event with fabulous items donated by individuals and local businesses. Anyone interested in donating an item for the silent auction can drop them off at the hospital or call 940-228-4321 to arrange for them to be picked up.
Visit our Facebook page at Haskell County Hospital Foundation to get the latest updates and information.
For more information or to donate to the Foundation, visit our fundraising site.